Massage Therapy Leicester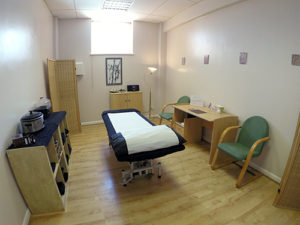 Are you considering Massage Therapy Leicester? Michele White, an experienced Leicester massage therapist offers a range of massage treatments to improve health & wellbeing. You may be in search of a massage practitioner to manage and prevent minor injuries. You may need help with managing everyday work-related aches & pains. Maybe you are looking to relax and renew with a therapeutic massage?
Michele is a professional massage therapist who is experienced, trained & highly qualified to suit your needs. Read more to find out how massage therapy Leicester can help you.
List of Massage Therapies
---
Remedial Massage Therapy
Remedial Massage is a deep form of massage therapy and involves manipulation of the soft tissues of the body (muscles, ligaments, tendons etc.) to aid the relief of physical aches and pains and to encourage good muscle condition, circulation and flexibility. It helps prevent and heal injuries incurred in everyday life. Massage therapy works to correct imbalances caused by poor posture, injuries, back pain, lifestyle, stress and many other problematic conditions.

Aromatherapy
Aromatherapy is a natural treatment combining therapeutic massage with the highest quality essential plant oils to aid the improvement of health and wellbeing. It is a powerful anti-stress and anti-anxiety treatment which is deeply relaxing and revitalising.

Ultimate Facial Treatment
Ultimate Facial Treatment is a multi step treatment which is deeply nourishing for the skin. The frequency of having this treatment will vary depending on the client's needs, however, for the best results every four to six weeks is recommended. Using products containing only natural botanical & herbal extracts and the highest quality essential and seed oils, this holistic facial is deeply cleansing, revitalising and corrective. The One hour treatment involves deep cleanse and tone, exfoliation, mask, moisturise and extensive massage of the face, neck and shoulders.

Ultimate Body Treatment
The 1 hour ultimate body treatment begins by applying a natural sea salt scrub which contains several key invigorating essential oils to remove dead skin cells and condition the skin. The scrub is removed using hot (steamed) towels before applying an absorbent body mask. The mask combines essential oils and antioxidants to aid in the removal of toxins, nourish the skin and improve skin surface texture. Once the mask has been absorbed a lotion or oil (containing natural botanical extracts) is used to massage the body; moisturising the skin and relieving muscle tension.

Scalp Massage
This Scalp Massage technique helps relieve the build up of daily tension and brings about an enjoyable sense of well-being. The treatment involves using a range of techniques which specifically cover the upper back, shoulders, neck, scalp and face to help alleviate many conditions, some of which include sinusitis, tension headaches, eyestrain, stress, anxiety, insomnia and neck and shoulder pain.

Hot Stone Massage Therapy
Hot Stone Massage is practiced using iron-rich basalt volcanic stones which are heated and then used in combination with specialised massage techniques. The client is enveloped in warmth and the therapist can massage more deeply. The heat from the stones has the ability to loosen tight muscles which in turn increases flexibility. This radiating heat penetrates into even the deepest of muscles promoting a feeling of well being and relaxation. The heat from the stones helps to regulate blood flow; it also helps to rid the muscles of toxins which result from a build up of stress and poor lifestyle habits. Stiff joints benefit from the penetrating heat, making this treatment an excellent choice after exercise or any physical work. Hot stone therapy is also used to help relieve stress, depression, PMT and is also effective for some skin disorders.

Thai Herbal Compress Massage Therapy
Thai Herbal Compress Massage combines the healing effects of traditional eastern massage techniques with heated herbal compresses. The compresses contain a number of herbs such as lime, turmeric, camphor, lemongrass, menthol and tamarind, to name but a few. These herbs are renowned for their therapeutic qualities; they are invigorating, purifying and relaxing. In the treatment the compresses are immersed in water then heated before using on the body, this process releases the oils contained within the herbs. The deeply relaxing and penetrating heat from the compress soothes aching muscles whilst the essential oils released from the herbs are absorbed by the skin to bring about the relief of tension, easing respiration and aiding the relaxation of muscles to allow joints to move more freely. They may also help soften, nourish and moisturize the skin, soothe skin irritation as well as brighten and tone the skin.

Reiki Healing
Reiki is a non-invasive healing method which can be helpful in the relief of many conditions including depression, stress, anxiety, ME, asthma and physical discomfort in the body. What is experienced in a Reiki session will vary from person to person, but usually a sense of deep relaxation, peace and inner radiating heat is felt by most. Often people will fall asleep or describe experiencing an almost meditative state.

List of Treatment & Therapy Combinations
Massage for Health Leicester also offer clients the chance to combine treatments & therapies to suit your needs. If you wish to choose your own combination of treatment please speak to Michele directly. Please note that 24 hours is required for cancellations or a charge may be incurred. All Courses of treatment must be used within a six month period.
All treatments are carried out using heated oils, towels and a heated treatment couch. Try Massage Therapy Leicester to help improve your health & wellbeing.
If you require more information about massage therapy Leicester, or would like to enquire about how to choose your own combination of treatments & therapies. Contact Massage for Health Leicester: Michele White on 07947 741791 or visit the contact page.